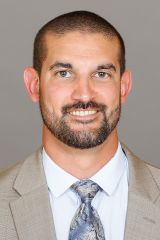 Joe Trahan is a sports media professional who has spent over 15 years in the professional/collegiate ranks. Trahan has gained experience throughout the National Football League, the National Basketball Association, the NCAA sports ranks, as well as internationally with NFL Europe (Hamburg, Germany).
In his current role, he is the Media Relations and Corporate Communications Coordinator with the Dallas Cowboys of the NFL where he is in his 13th season in Dallas, 14th overall in the NFL. Along with working each Cowboys home and away game, he assists with the day-to-day interview requests for all players, coaches and ownership, as well as assists with the team's weekly game release and other Cowboys publications (media guide, yearbook, etc.)
He also serves as a press contact/media coordinator for AT&T Stadium, the home of the Dallas Cowboys, while working such events as Super Bowl XLV, major college football games like the inaugural National Championship Game (2015) and the annual Cotton Bowl, the 2010 NBA All-Star Game, the NCAA Men's Basketball Final Four Championship (2014), international soccer matches, world championship boxing, WrestleMania 32, as well as concerts with world renowned artists to name a few events.
Trahan also serves as the main contact for media tours for events, media tours and filmings at The Star in Frisco, Texas - the Cowboys World Corporate Headquarters that opened in 2016.
Trahan owns two degrees from The University of Southern Mississippi with a Bachelor's of Science (Sport Administration) and a Master's of Arts (Public Relations).