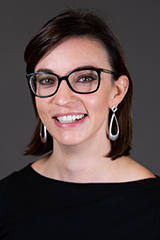 Sara Champlin (she, her, hers) is an associate professor of advertising in the Mayborn School of Journalism at the University of North Texas. She received her PhD from the University of Texas at Austin, with a specialization in applied statistical modeling.
Dr. Champlin's research focuses on establishing equally accessible, equitable media. This work intersects media strategy with user-centered design principles to develop community-based initiatives that address pressing societal issues. Her teams' projects are funded by the National Institutes of Health (NIH), the National Science Foundation (NSF), and National Geographic.
Dr. Champlin is especially interested in the study and cultivation of health literacy. A central purpose of her work is diminishing the barriers experienced when interacting with health communications and resources. Additionally, her work addresses the commodification of social issues and understanding the role brands can play in contributing to positive societal outcomes such as better health, decreased stigma, and the support of underserved communities. With more than a decade of experience, she is also an internationally recognized eye-tracking expert.
Dr. Champlin has received national awards for her research and her teaching. She has provided health literacy support and recommendations for adult education centers. She collaborates with units on the UNT campus to improve health outcomes for our students and community. She is an active reviewer for numerous academic journals and conferences.