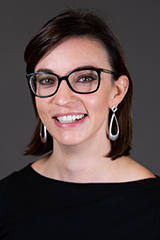 Sara Champlin is an assistant professor of advertising in the Mayborn School of Journalism at the University of North Texas. She received her PhD from the University of Texas at Austin.
Dr. Champlin's research focuses on the use of strategic communication principles to improve public wellbeing. She is especially interested in health literacy and the ways communication practitioners facilitate the public's seeking and understanding of health information. A central purpose of her work is to diminish the barriers many experience when it comes to interacting with health information. Additionally, her work addresses the commodification of social issues and understanding the role brands can play in contributing to positive societal outcomes such as better health, decreased stigma, and the support of underserved communities.
Dr. Champlin has received national awards for her research and her teaching. She has provided health literacy support and recommendations for adult education centers. Additionally, she collaborates with units on the UNT campus to improve health outcomes for our students. She is an active reviewer for numerous academic journals and conferences.