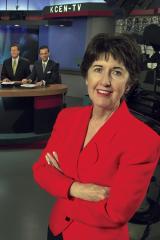 Editor & Publisher, Temple Daily Telegram and Killeen Daily Herald
Sue Mayborn is the editor and publisher of the Temple Daily Telegram and the Killeen Daily Herald, two of only five independently owned newspapers with circulations above 10,000 in Texas. She also owned the NBC affiliate station KCEN-TV, which her husband, Frank W. Mayborn, set up more than 50 years ago. KCEN-TV was the first television station in its market, covering Waco, Temple and Killeen. She sold the station in 2009.
An active philanthropist, Mrs. Mayborn believes in public service and the philosophy that successful citizens have the responsibility to put back into their community and their profession. She serves as the president of the Frank and Sue Mayborn Foundation and has contributed generously to worthy charitable, religious, literary, scientific and educational projects within Central Texas. Mrs. Mayborn is also a benefactor of the University of North Texas' Frank W. and Sue Mayborn School of Journalism and the Frank W. Mayborn Institute of Graduate Studies. In 1999, the UNT graduate program in journalism was renamed the Frank W. Mayborn Graduate Institute of Journalism. For more than 20 years, Mrs. Mayborn has maintained the Mayborn legacy of journalism excellence and continues to encourage the development and growth of Central Texas.