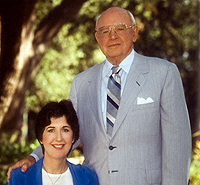 The Frank W. & Sue Mayborn School of Journalism was established in 1999 with a generous gift. The Frank W. Mayborn Graduate Institute of Journalism was also established in 1999 to help promote journalism excellence. Many graduate students have been awarded generous scholarships on behalf of the Mayborns in hopes that they will give back to the community through the journalism profession in the way that Frank did.
Frank was the owner and publisher of the Temple Daily Telegram, Killeen Daily Herald & KCEN-TV until his death in 1987. Now, his wife, Sue Mayborn, continues this journalistic tradition.
Frank, with his brothers and father, bought the Telegram in 1929. At the time, the newspaper's mission was "to make the Telegram the best newspaper ever published in a city of fewer than 20,000 people." Frank added to the mission statement by promising "to operate a politically independent newspaper, placing the public welfare above the interest of any party."
Today, the Temple Daily Telegram serves a city of more than 60,000 residents and is available to a regional audience of 285,000. The paper has a daily circulation of 18,000 & a Sunday circulation of 22,000.
The Telegram also prints and distributes the Fort Hood Sentinel, which is the army's newspaper for Fort Hood, one of the largest U.S. Army bases in the world.
In 1953, Frank purchased the Killeen Daily Herald, which is the oldest privately owned and continuously operated business in Killeen.
The Killeen Daily Herald serves a city of more than 119,000 residents. The paper has a daily circulation of 20,000 and a Sunday circulation of 23,000. The newspaper also produces three weekly papers, the Fort Hood Herald, the Copperas Cove Herald and the Harker Heights Herald.
The Temple Daily Telegram and the Killeen Daily Herald are two of only five individually owned newspapers above 10,000 circulation in the state.
Fall 2020 begins 75 years of Journalism at the University of North Texas. Over the years, the Mayborn School has grown to include not only print, broadcast, photo and digital journalism, but strategic communication as well. Half of the students in the School concentrate in either public relations or advertising. While the school's offerings have changed and grown, a committment to accurate and ethical mass communication in the Mayborn tradition, is unchanged. We are honored to have the Mayborns as the school's namesake and pledge to continue to live up to those tenets.